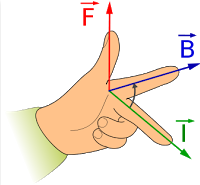 When a conductor carrying a current is placed in a magnetic field, the conductor experiences a magnetic force.
The direction of this force is always right angles to the plane containing both the conductor and the magnetic field, and is predicted by Fleming's Left-Hand Rule.
F is Force, B is Magnetic field, I is current.
From the name of the rule, use your left hand.
E.g. If current flowing towards to right and the magnetic field is pointing into the paper, the direction of the force is predicted by the Fleming's left hand rule to be upwards.