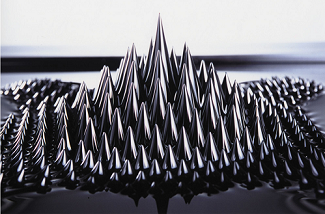 A ferrofluid is a liquid which becomes strongly magnetized in the presence of a magnetic field. Ferrofluids are made up of tiny magnetic fragments of iron suspended in oil (often kerosene) with a surfactant to prevent clumping (usually oleic acid).
Watch the below video for explanation:
Do you want to make your own ferrofluid? Follow this link to get the instructions.
Videos of ferrofluid fun! :
https://www.youtube.com/watch?v=fBanQOFyQj4