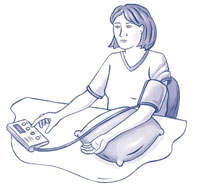 Blood pressure is normally measured with the cuff of the sphygmomanometer
around the arm. Suppose the blood pressure were measured with the cuff around the calf of the leg of a standing person. Would the reading of the blood pressure be the same here as it is for the arm?
Answer:
The blood pressure measured at the calf would be larger than that measured at the arm. If we imagine the vascular system of the body to be a vessel containing a liquid (blood), the pressure in the liquid will increase with depth. The blood at the calf is deeper in the liquid than that at the arm and so it is is at higher pressure.
Blood pressures are normally taken at the arm because it is at approximately the same height as the heart. If blood pressures at the calf were used as a standard, adjustments would need to be made for the height of the person and the blood pressure would be different if the person were lying down.
On the same note, here are seven tips to ensure you get an accurate blood pressure reading:
1. Wait! Don't measure your blood pressure the moment you reaches the medical examination room. Wait at least five minutes to stabilize your heart rate. If you had been rushing for your medical appointment, your blood pressure will be a lot higher than its true reading. Have a good rest before measuring your blood pressure.
2. Don't Talk. This might be a bit weird but talking to the medical personnel during the measurement can throw the blood pressure numbers off.
3. Sit correctly. An incorrect posture will have an effect on your blood pressure. Sit with your back on the back of the chair, feet flat on the floor and legs uncrossed.
4. Ensure that the cuff is of the right size. If the cuff is too large, the blood pressure reading will be higher than its true value.
5. Check blood pressure on both arms. If there is a blocked major blood vessel in one of the arm, the blood pressure measured on that arm will be different from the other arm.
6. Do not drink coffee prior to the appointment. Drinking tea, coffee, cola or other caffeinated drinks within 30 minutes will raise your blood pressure.